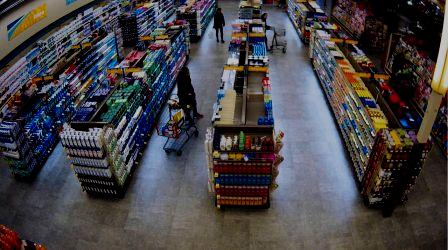 Build a Flywheel of Growth
Executive Coaching on Strategy, Product, and Go-To-Market for Startups & Teams Working on In-Store Optimization
What's the difference between a fast-growth in-store analytics solution powered by a highly engaged team and a stagnating bottom line supported by under-performing team ready to jump ship at the first sign of struggle?

Strategy
If you guessed "more financing," you'd be wrong. Strategy is not a series of cliches to investors but the "why." You'll learn how to connect between target markets, how-to-win plans, and management systems.

Product
If you guessed "more features," you'd be wrong. Product features do not stand on their own because "you can do it." You'll learn to correlate between the "job to be done" and problem-solution roadmaps.

Go-To-Market
If you guessed "better clients," you'd be wrong. Often, clients don't share data because they don't see your value. Worst, they distrust you. You'll learn to evaluate which clients will love you and why.
Unless you ENGINEERED your team for rapid scaling, client feedback, and fast-decisions autonomy, the impact and income you're working tirelessly to scale will come with a sense of burnout and, at worst, bankruptcy.
Does this sound familiar?
You're collecting more and more data, but clients keep asking for more.
You feel overwhelmed. You're trying to find your best shot. That goes from a very complex solution such as an airport to a relatively simple pop-up store. It feels the same, but it's so different. You're not sure what to do and what not to do.
You dread meetings. You can talk about the solution conceptually. You can dig deep about the software solution and features you're selling. But it's confusing when it comes to the insights, to what the clients do with the system.
You fear churn. Client retention is vital for your revenue, stability, and attracting investors. You see the signs of clients not calling, not picking up the phone, and contemplating pricing and Service Level Agreements.
This is important:
Challenge #1
Being "customer-centric" is a buzzword, not a practical reality for many retailers.
Retailers are logistical operators with 3 to 5% razor-thin profit margins. That's why the in-store technologies that sell well relate to payments and products. There is a long list of failed "digital transformation" concepts such as digital fitting rooms, smart studios, and digital media.
Challenge #2
The added value of physical stores comes from customer service by the frontline staff.
Most retailers consider their stores as a tactical sales floor. In other words, the physical store is one distribution point among many. Omnichannel required investment in order management and supply chain. But seeing the frontline staff beyond payroll costs is still counterintuitive.
Challenge #3
To get value from technology solutions, retailers need a process for change management.
There is a vast difference in skills and knowledge among retailers and inside the retail organization. The challenge is acute in the local physical stores. Turnover is high. Salaries are low. Training is a misnomer. Worse, communication is one-way. In many retail companies, there's no feedback from stores to corporate.
And,
If you're a fast-growth startup, your challenge hides in adpating the problem-path solution to your strategy.
Tracking location, time, and attributes solve problems in many industries. If the problem relates to how people behave in physical environments, you probably have at least a minimal value solution.
But that's technology. A solution relates to "how" you solve a problem. The challenges in fashion retail are not exactly the same as in supermarkets. Words, metrics, and nuances matter.
Sometimes your challenge is marketing. Sometimes, it's the product. Often, it's because you're a brilliant entrepreneur who is a CEO, CTO, and product manager all in one.
To grow, you need to narrow your focus and know the "language" of that specific market.
If you're an early-stage startup, your challenge starts with your best customer.
You have one big client. It means you are effectively that client's R&D department. As a result, you face the dangers of investing resources in customized solutions and not seeing the Big Picture.
If you are working in a relatively protected environment, you are too focused on your niche. Your biggest challenge is the perception that you can build a comprehensive end-to-end solution.
You may be chasing the Next Big Thing. That happens often when you have an over-involved VC. Sadly, many investors don't understand the market or care about you. They care about the exit.
If you're an innovation manager, your challenge comes from organizational inhibitors.
You got the title, but you don't have the resources, team, and authority to execute.
Your boss loves you, but you spend most of your time training your team instead of working with your customers.
Your company is technology agnostic, but that's a two-edged sword. Every integration requires resources of time, money, and knowledge. That's "switching costs." Often, innovation is just a word.
To sell technology solutions, you need more than technology.
I first met Ronny when I enrolled into the Behavior Analytics Academy. After the first one-on-one session, I was impressed with her deep knowledge and understanding of the Retail Tech Industry. She soon became our Advisor and our "growth hack" into the future of the industry. We quickly incorporated all her insights into our strategic planning. After taking her Mastermind Course, we built better processes and products, we acquired big retail customers in the region, and we ended up merging our operations with a key industry worldwide player. Ronny, working with you was the pivotal point in this story, and for that and much more, I'm forever thankful to have been your client and your friend."

Nicolas Guiloff, CEO, Intelligenxia
Here's the secret:
As a solution provider, your growth depends on building technology-based tools that help your client's business users do their jobs better.
It's not about technology. It's about clarity.
Increase sales and profits in physical stores by optimizing resources and opportunities you already have.
In-Store Technology
Tools to capture, measure, and manage physical environments.
In-Store Analytics
Data structures & user interfaces for reporting, alerts & forecasting.
In-Store Optimization
Techniques and frameworks to increase sales & profits in stores.
Introducing the executive coaching program:
One Year Discovery
One Year Discovery is a coaching program for fast-growth, early-stage, and innovation teams. It's based on strategy, product roadmap, and go-to-market pillars. I'll provide you with clear, candid, and expert feedback so you can grow faster.
Playing to Win
We will use "jobs to be done" and "playing to win" frameworks for strategy. It's an eye-opening exercise that connects aspirations to resources and actions.
Win-Win-Win Alignment
We will dig deep into customer and staff behaviors and evaluate the problem-solution paths. The goal is to align the product roadmap to your strategy.
PEACE Method for Profit
We will build a strategy for optimization. You'll learn techniques, frameworks, and processes to help your clients increase sales and profits in their physical stores.
Here's how the executive coaching program works:
You have a unique market positioning. As a result, your program is customized. Sometimes, we start with strategy and move into sales presentations. We can also begin with evaluating a pilot project and then jump into your unique value proposition. We move from topic to topic based on your immediate needs, your progress, and the market.
We meet weekly on a Zoom with you and your team. The participants, structure, and topic of conversation depend on you.
One Year Discovery is about you, your team, and your company's growth.
And as a Bonus
One Year Discovery is an internally focused coaching program, but I'll also help you with external marketing, training, and retention.
For example,
Academy All-Access
You get three all-access spots to courses, workshops, and events, including 'Tracking That Works', 'Location That Works', and 'ISO Profit Accelerator'.
Case Studies
As a valued member of my community, you can promote your technology solution in my blog posts, online courses, and YouTube videos.
Client Workshops
Pre-pandemic, I ran management boot camps. Today, I offer virtual workshops for retailers, brands, malls, banks, and venue operators of physical locations.
Wait, there Are More Bonuses
You are my partner in the process of building in-store optimization as a recognized professional discipline.
Revenue Opportunities
I'm developing the shared revenue model for courses and workshops, as requested by my clients.
Networking Opportunities
I don't offer business development, but I make an exception with people I know well. I love it when clients work together.
Behavior Analytics in Retail
The 2nd edition of "Behavior Analytics in Retail" will be out in 2023. I hope you'll be in the book and be part of the journey.
Frequently Asked Questions
Q: I work closely with my retail clients. Why do I need you?
In Silicon Valley, there's a lively debate about walking away from the customer-always-right view.
Here are common scenarios:
You're working for one big retail client that keeps coming up with new demands. You know the story if you have ever worked with Home Depot, Tesco, or other Tier-1 retailers. Sadly, it is just a matter of time before your value to the retailer ends or your money runs out. Some sell. Some go bankrupt. It happens all the time.
You're developing one feature after another for fashion retailers, a supermarket, or an airport, only to find out that the problem-solution path is different. In other words, you developed technology but not a solution. You end up stuck in a niche with no opportunity to grow.
Your retailer sends you an image of the store and says, "that's what I want." And you realize that she has no idea what she wants. And you have no idea where to start. You end up with a pilot project that goes nowhere and a disappointed retailer.
You may be speaking with the wrong person in the retail organization. Worse, your clients may demand a "solution" based on how they work today. As a result, you will spend time, money, and energy on stuff that doesn't matter.
My coaching job is to help you avoid mistakes that are hard to correct.
Q: I believe One Year Discovery, the executive coaching program, will help my company, but how exactly?
One Year Discovery was born from two decades of experience. I worked with over 100 high-tech startups, in different industries, before focusing on in-store technologies and behavior analytics. I had a front-row seat to the future with the Stanford University Vision Project.
Here are common challenges:
You invested in camera-based technology, but it directly impacts your pricing model. And your retailers don't want to invest in more hardware, so you're missing critical data. As a result, the retailer is unhappy with you. And so are your investors.
You got a Quick Win. Your data got the retailer to change something, which increased sales conversion by 2%. Everyone is happy, but that's where the project stopped. The in-store technology is not "sticky." A year later, you realize that there are signs of churn.
"I've learned more in three sentences than the last three months," said one client. "We have been working on the wrong strategy for the past two years," concluded a CEO. "The phones didn't ring. Now they do."
My coaching job is to save you time in the race to build an in-store analytics solution that sells.
Q: The level of people in retail stores is low. They have a high turnover. The retailers don't know what to do with the data. How exactly can your coaching help?
Often, you're mixing different challenges. Even the lowest-level associate has tasks to do. The store needs to comply with the retailer's policies and procedures. Most importantly, stores are not static but living environments.
If you're building a high-tech solution, sometimes the worst thing you could do is give clients access to all your data at once. The overwhelming factor destroys trust. You need to clarify how your data matters for every client and user. It's more complicated than you think.
My coaching job is to help you articulate which features matter more to whom and why.
Q: If One Year Discovery does not work for us, how can we work together?
One Year Discovery includes workshops for retailers, case studies promotions, and shared revenue opportunities. Sometimes, I offer these as standalone services. It depends.
Q: Can you do marketing work for us?
I don't write guest blogs or marketing materials. I'll be happy to be a guest speaker in your podcast. Even better, you can sponsor me for an in-person speaking in conferences.
Q: Can we do a strategic partnership?
I don't offer business development. These services make sense for marketing companies, deal brokers, or investors. I'm an education company.
I do love to see my clients work together. You'll have the opportunity to meet each other.
Q: How can you help me with one hour of coaching a week on Zoom?
I'm fortunate to work with people and companies worldwide, in different markets, but with a specialization in behavior analytics for physical environments. Because I'm laser-focused on developing in-store optimization frameworks, I have a unique perspective on what works today and what does not.
My coaching job is to help you do your job better.
Q: If it doesn't work for us, can we cancel the coaching program?
You can cancel anytime.
I take care to limit the program to people and companies that I can help. I work with people that I want to work with. Most importantly, I work with companies that have the foundations to be successful.
"When a great team meets a lousy market, market wins. When a lousy team meets a great market, market wins. When a great team meets a great market, something special happens."

Don Valentine.
Your commitment is for a year because the process takes time. A small investment considering the long-term benefits to your company and your career. You're building new habits and mindsets.
One Year Discovery, the Executive Coaching Program, is PERFECT if you're:
A fast-growth company that wants to take your intellectual property and accelerate the solutions to new verticals. Your platform is configurable. You have all the capabilities. Your challenge is which problems you should solve, and if there is money in it.
An early-stage startup that wants to know the Big Picture. You're operating in a narrow niche of geography, retail sector, or a big client and exploring what's next. You want to know the best place to invest your limited resources today, so you grow fast tomorrow.
An innovation team wants to enable your clients to do more with in-store analytics. Your customers have ideas. Your technology partners have suggestions. Even your investors try to help. But you don't know how to deliver consistent results.
If the question that keeps you awake at night is "am I too early or too late?" then One Year Discovery is perfect for you.